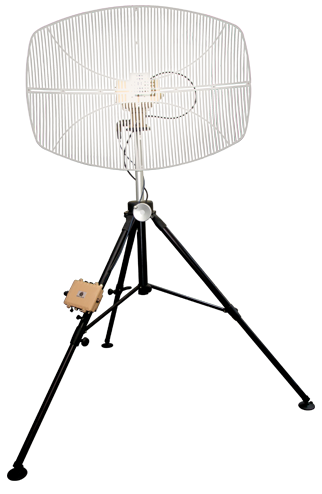 The Wave Relay®
Tracking Antenna System

enables communication between stationary and mobile assets. Together with the Quad Radio Router, the Tracking Antenna System provides an encrypted digital data link to UAVs, helicopters, planes, ships and boats.

The Tracking System transmits real time command and control digital video and VoIP over 100mi. Being a component of the MANET, the Tracking System acts as an extension to the existing network and allows for greater distances.

The Tracking System consists of three parts:
Parabolic grid antenna - Provides 26.5 dB gain for long-range, highly directional applications. The grid is open-frame die cast aluminum, making it durable, lightweight, and steady in the wind. This design enables the System to easily track an orbiting platform without ever dropping communication.
Pan/tilt motor - designed to allow continuous 360° horizontal rotation. Constructed with RF pass-through slip ring, only short RF cables are used and never tangle.
Tripod - Extremely sturdy and rugged. Capable of elevating to six feet for operation and collapses to less than three feet for easy transport.
The Tracking System is intelligently designed with deployment in mind. Components are transported directly into the field where the unit is easily and quickly assembled. The operator can then configure through a user friendly web management interface.