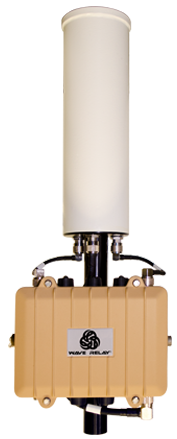 The
Sector Array Antenna

is the solution to long range omni-directional coverage while maintaining high throughput with easy deployment.

The Sector Array houses three independent antennas, providing 360° horizontal and wide vertical coverage. Each antenna covers a 120° area and RF transmissions are directed towards the destination which minimizes interference and maximizes the capacity of the network. This same design also facilitates efficient reception & rejection utilizing three radio modules in the Quad Radio Router maximize communication per sector. The vertical beam width is ideal for vehicular & maritime networks, allowing data to stream without interruption even under the most challenging conditions.
Peer-to-Peer Mobile Ad Hoc Network (MANET)
Secure High Bandwidth Data
Transfers Data, Video, & Voice
Multiple Video Streams
Real-time Position Location