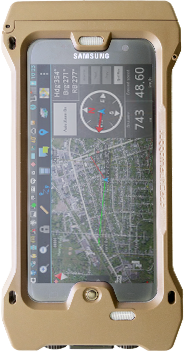 Mobile devices such as
Android™

phones and tablets now provide an easy to use platform to display information.

Persistent Systems has developed the USB to Ethernet Tether cable to enable users to view information traversing the Wave Relay® network. Delivering power, enabling multicast, and providing a more secure connection to the network allows for the end user to see full motion video, position location, network connectivity and change audio channels all from a touch on the screen in the WaveSA Android™ App. Inserted into a ruggedized case, the Android™ device and Wave Relay® MPU4 provide a light weight, field ready capability for everyday use.